The Festival dei Due Mondi (Festival of the Two Worlds) was founded in 1958. Because Spoleto was a small town and, at the time, relatively inexpensive, and also because there are two indoor theatres, a Roman theatre and many other spaces, it was chosen by Gian-Carlo Menotti as the venue for an arts festival. It is also fairly close to Rome, with good rail connections. It is an important cultural event, held annually in late June-early July.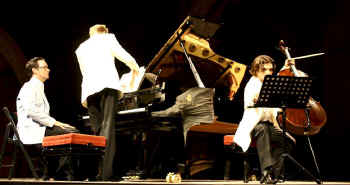 The festival has developed into one of the most important cultural manifestations in Italy, with a three-week schedule of music, theatre and dance performances. Over the years many young artists of diverse fields have been launched through their performances/exhibits here and gone on to become household names worldwide. Jerome Robbins, the Harlem ballet, Rudolph Nureyev, Mikhail Baryshnikov, conductor Tommy Schippers (whose ashes are buried in the wall in the piazza to the right of the cathedral), Anna Moffo, Jill Clayburgh, Shelley Winters, Al Pacino, Renee Fleming, Jacqueline du Prč, Peter Serkin, Sviatoslav Richter, Twyla Tharp, the Mclain Family Bluegrass Singers and Franco Zeffirelli are just a few of the artists, directors, and conductors who have performed at Spoleto. For some time it became a reference point for modern sculpture exhibits, and works of art left to the city by Alexander Calder and others are a testimony to this.
The "Two Worlds" in the name of the festival comes from Gian Carlo Menotti's intention to have the worlds of American and European culture facing each other in his event. This concept was strengthened by holding a "twin" festival, the Spoleto Festival USA, annually in May/June in Charleston, South Carolina.

Since the death of Gian-Carlo Menotti, relations between his adopted son, Francis Menotti, and other interested parties, notably the municipality of Spoleto and the Festival Foundation, have deteriorated to the point where Francis Menotti has been ousted from the organisation of the festival. It seems likely that the festival will revive greatly under its new artistic director, Giorgio Ferarra.